Can Sticky Eye Kill a Hamster?
You might have experienced crusted fluids after waking up someday. It prevents the eyes from opening fully. The same happens to pets like hamsters. And it can cause serious inconvenience to your little pet. 
But can sticky eye kill a hamster? No, the sticky eye doesn't kill a hamster. But it will be painful for your pet. However, if the fluid discharge is caused by other infections and the problem is overlooked, it can kill a hamster.
This guide will discuss why sticky eye happens and how to treat the problem to keep your pet healthy. Let's get started.
What Is Sticky Eye in Hamster?
As the name suggests, the eyelids of your hamsters get sticky or glued together sometimes. This condition is known as the sticky eye. The condition is common in a lot of animals. But as the hamster's eyes are tiny, they can get fully closed due to the situation.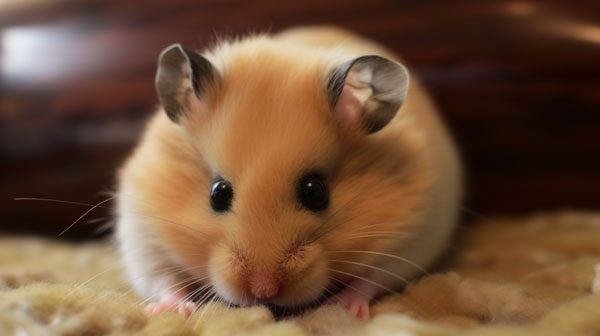 Sometimes, other symptoms like swelling or redness can also occur. And inflammation around the eyes is also common. To treat the problem, you must know the reasons first.
Why Do Hamster Eyes Get Sticky?
Virus or bacteria is the most common reason for conjunctivitis in hamsters. Besides, there are other reasons for this problem. Check the reasons below.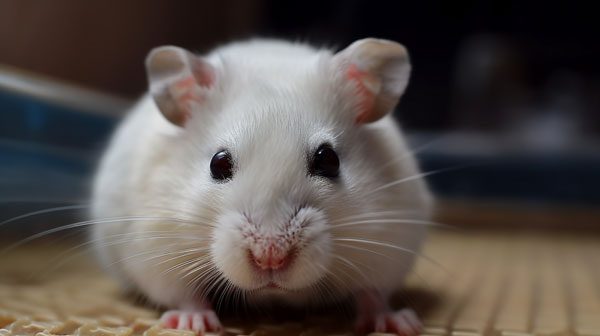 Excess Fluid Discharge
Hamster eyes secrete fluids to keep the eyes clean and free from infection. The secretion continues even when the hamster is sleeping. As the eye blink frequency is low during sleep, the fluid overflows to come out of the eyelids. It then dries up outside the eyes and glues the eyelids together.
As a result, hamsters can't open their eyes after waking up. The problem usually increases as the hamster ages. Young hamsters sleep less than older hamsters. 
As older hamsters sleep for a long time, it creates the perfect condition for fluids to make crust outside the eyes. This is why hamsters suffer from sticky eyes.
Blocked Tear Duct
Tear ducts are the passageway for transporting fluids. These fluids lubricate the hamster's eyes and keep them clean. Excess fluid is typically drained through the nose. But the fluid can't pass through the nose when the ducts get blocked.
So, they come out of the eyes. And if the eyes are closed for a long time, the fluid can dry out to cause sticky eyes. Infections can also occur for this reason.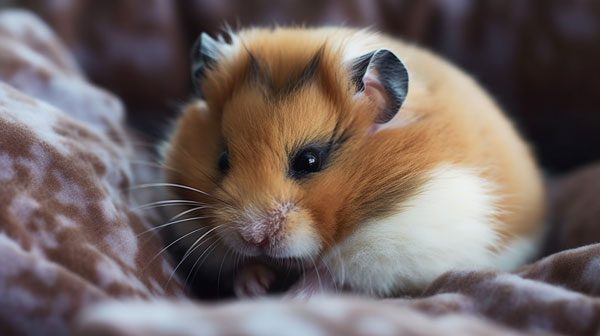 Ammonia Vapor
If your hamster sleeps on soiled bedding, ammonia vapor can reach its nasal passage. It will cause inflammations accompanied by watery eyes. Depending on the intensity or frequency of the ammonia vapor intake, your hamster can catch keratoconjunctivitis. It will cause sticky eyes in the hamster.
Dental Problems
Infected tooth roots can be another cause of sticky eyes. Facial abscesses can happen due to tooth infections, and they usually come with hemifacial swelling. And the swollen eyes will be partially or entirely closed.
What Are the Symptoms of Sticky Eye?
The first thing you will notice in your hamster is it can't open its eyes normally. And the discharged fluid will form a crust on the eyelids, usually in the morning. If blocked ducts cause stickiness, yellowish fluid can be beside the crust.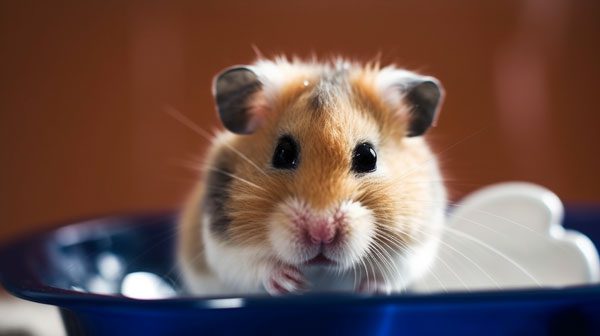 Besides, you may notice redness or swelling in your hamster's eyes. In such cases, the hamster may be suffering from pink eye. Fortunately, you can primarily treat sticky eyes at home. 
Sticky Eye Treatment Methods
Unless you see symptoms like redness or swelling, you don't need to take your pet to a vet for treatment. You can follow the steps below to treat sticky eyes.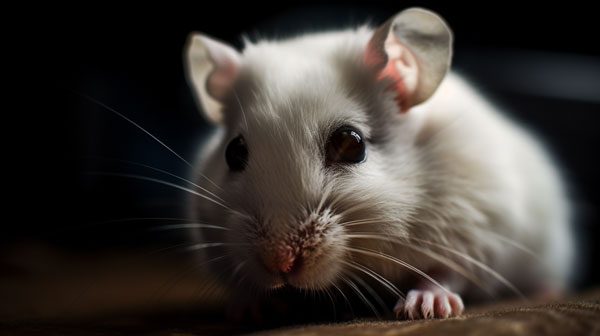 Make a saltwater solution using non-iodized salt. You can also use lukewarm water instead of saltwater solution
Hold the hamster gently but ensure it can't escape. The face should be held in a position where you can see its eyes clearly
Dip a cotton bud in the saltwater solution
Put the wet cotton bud onto the crust so that it absorbs the moisture and gets softened. It may take some time to soften the crust
Lightly swipe the bud to soften all the crust. Once the whole thing is soft, your hamster might be able to open its eyes slightly
Wipe any excess substance off the eyes. Be careful not to hurt your little pet
If the hamster is scared to open its eyes, you can pull them open. But be gentle while doing so
When other symptoms are visible, vets might use oral administration to cure the problem. Take your hamster to a vet immediately.
If you're a hamster owner, you might be wondering about the proper size of their cage or if you can overfeed them. At RodentsFact, we have articles on how big should a hamster cage be and can you overfeed a hamster. Our article on
how big should a hamster cage be
covers the ideal size and features of a hamster cage, while our article on
can you overfeed a hamster
explores the risks of overfeeding and how to maintain a healthy diet for your pet. By learning about these aspects of hamsters, you can provide the best care for your furry friend and ensure their well-being.
FAQs
Check these answers to some common questions regarding sticky eyes in hamsters.
Q: Can I use eye drops for sticky eyes in my hamster?
A: No, you shouldn't use any kind of eye drops or oral antibiotics to treat sticky eyes in hamsters. Only a certified vet can determine that after the necessary diagnosis.
Q: Do eyes protrude because of sticky eyes?
A: No, protruding of eyes is known as Exophthalmia. If the eyes are closed for a long time due to sticky eyes, they can bulge a little but won't protrude completely.
Q: How to understand the pain caused by sticky eyes?
A: Even if your hamsters feel pain due to sticky eyes, they might not show any signs of pain. These pets are experts in hiding pain. So, you should closely monitor the pet for unusual behaviors, like eye rubbing, lethargy, etc.
Conclusion
Sticky eyes are ubiquitous in hamsters. This is usually caused by excessive fluid discharge during sleep. When they wake up, the crust formed around the eyes prevents them from opening the eyes. Tear duct blockage or infections can also cause the eyes to be shut.
The problem can get serious if you ignore it. So, can sticky eye kill a hamster? No, it won't kill a hamster immediately. But complications may happen if sticky eyes aren't treated promptly. And those complications may lead to death in the worst cases.