Everything You Need To Know About Rabbit Vs Hamster
When looking for a new pet, especially something small, the most common debate is between getting a rabbit or a hamster. The age-long question is still quite unanswered.
So between rabbit vs hamster, who comes out ahead a better pet? Well, it depends! If you prefer an easier pet to maintain, a hamster might suit you better. But rabbits have a much bigger lifespan; hence, they will be an ideal pets in the long run.
But there are countless factors to consider before deciding on who to lean towards. And worry not, we shall exhaust and answer all such questions.
Rabbit Vs Hamster
The classification of their species is very important when petting one of them. Rabbits are part of the Lagomorpha family. On the other hand, hamsters are part of the Cricetidae family, also known as the Rodent family.
They are differently classed due to having very distinct digestive systems and very differently shaped teeth. Thus, rabbits and hamsters have very different diets and food habits.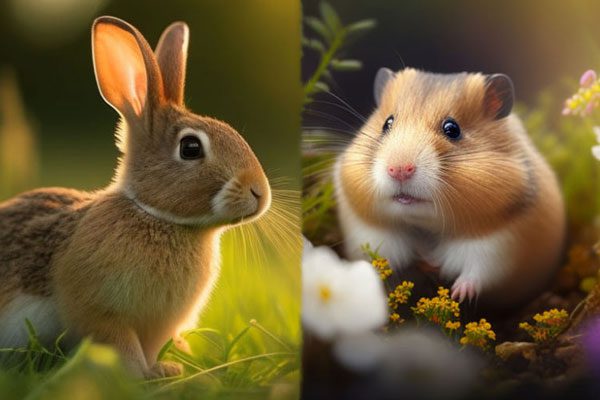 Likewise, rabbits are active from morning to evening, just like us. But hamsters prefer to stay awake at night, mainly as a survival instinct to escape predators.
Since they are two completely different species, they have many more differences than common traits. 
Size And Physical Traits Of Hamsters Vs Rabbits
Hamsters normally tend to be much smaller than rabbits. The smallest hamster is the Roborovski hamster, also known as Phodopus Roborovski. They grow only 1.5 inches in length and weigh 25 grams even as adults.
The largest hamster is the European hamster, otherwise known as the common hamster. They can grow up to a length of 15.7 inches and weigh up to around 460 grams.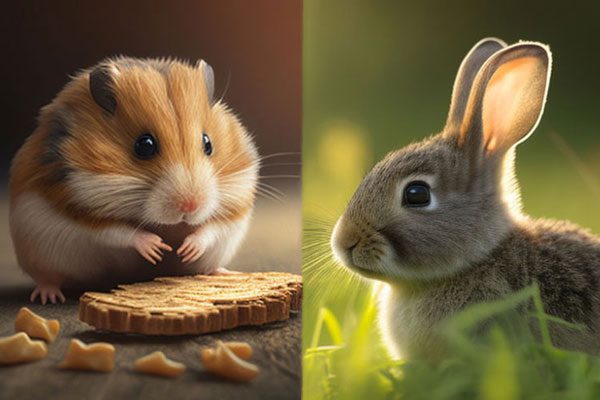 And the most common rabbits that we pet are the House rabbits. The smallest adult house rabbit grows as long as the largest hamster ever discovered! Generally, house rabbits grow up to 16 inches and weigh up to around 6 pounds. 
There are about 29 official breeds of rabbits, so a lot would vary on the breed you choose. The smallest rabbit is known as the pygmy rabbit. They grow about 8 inches long and weigh about 1 pound. 
While the bigger, rather the biggest rabbit in existence, Flemish Giants grow about 4 feet and 3 inches in length. And weigh about or more than 50 pounds.
Food Habits Of Rabbits Vs Hamsters
Rabbits and hamsters have very different food habits and for good reasons. As already discussed, they have very different digestive systems and prefer different diets. Here's a table that will guide you;
| Pet | Diet |
| --- | --- |
| Rabbits  | Timothy or Orchard hay, chopped non-leafy vegetables, fresh fruits, and commercial rabbit pellets and treats  |
| Hamsters | Certified Hamster Pellets, eggs, fresh fruits, herbs, Timothy hay, and occasionally boiled eggs and nuts |
Personality Of A Rabbit Compared To A Hamster
We shall discuss the personalities of both the rabbit and the hamster separately in this section down below
Hamster
Hamsters are very low in the food chain. Hence they are called the 'prey' animals. Species like hamsters have survival instincts that enable them to flee in the face of danger or hide from them effectively. 
Due to that, hamsters are a bit hard to make pets. They instinctively will try to hide from you for at least the very first week or two. It is also important to note that even after earning your hamster's trust, your hamster can easily forget you.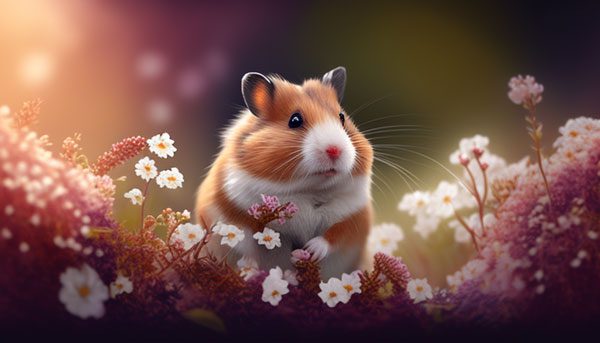 In terms of aggression, hamsters are not very aggressive animals. Rather they are very passive as long as they are not threatened. As already discussed, they are 'prey' animals and can get easily provoked or scared. 
Rabbit
They are much bigger in size and much higher in the food chain. Hence they do not have such defensive survival instincts and are much easier to pet. Despite that, rabbits are naturally very social animals, much like a cat or a dog.
Accordingly, it is not hard to befriend a rabbit, rather it is hard to maintain them. They want constant attention and want to be petted very frequently.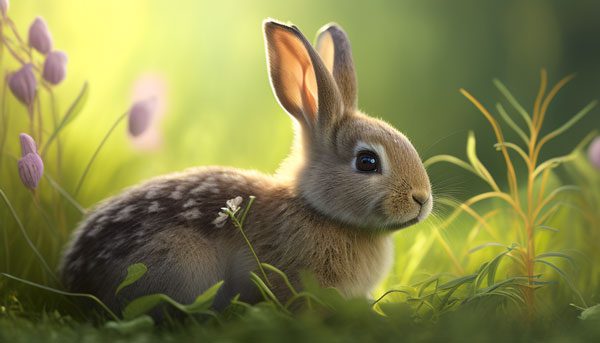 On the other hand, they also do not want you to go overboard when petting them. Much like a cat, they want your attention but also want some privacy. 
In terms of aggression, they are not only passive but rather very forgiving too. Rabbits do not get aggressive at all unless you exceed your boundary and make the rabbit feel threatened. 
Nevertheless, it is sometimes hard to read the body language of a bunny on what it wants, unlike a cat. Therefore, we are including a youtube video about a guide to a rabbit's behavior;
Territorial Behavior Of  A Rabbit Vs A Hamster
Rabbits and hamsters have very different territorial behavior, which we shall discuss down below.
Hamster
Hamsters are very territorial creatures. Since they are 'prey' animals, they feel safe and secure in solitude, in their own territory. And hamsters normally mark their territory with urine. 
And it is important to note that as territorial as they are, they might fight against any other pets you have. So, let him get comfortable with your other pets before they enter your little hamster's territory.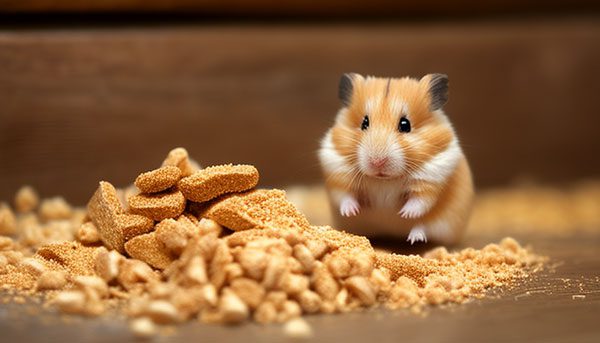 In terms of petting multiple hamsters, it is important to note that hamsters must be kept in separate cages. The only exception is if the pair of hamsters you get are of the same gender and are siblings. Even that doesn't work on certain hamster breeds, so please research.
Rabbit
Rabbits mark their territory through urine, pellets, and rubbing their chin where their scent glands are located. Rabbits are not as territorial as hamsters are and will let other familiar rabbits stay in their marked territory.
As already mentioned, rabbits are extremely social animals. So it is recommended to keep rabbits together in a single cage or else they might get depressed.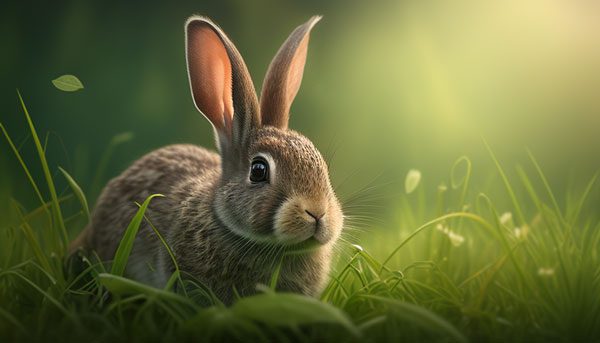 But bear in mind to have enough room inside the cage to suit two or more rabbits. Otherwise, their stress level would rise for not getting enough personal space when they desire. This might lead to territorial aggression among the rabbits.
Cages For A Rabbit Compared To A Hamster
Cages are another important concern when petting a hamster or a rabbit. But do not worry, we will dig deep to help you figure out the best cage for your pet.
Hamster
Hamsters are very small in size compared to rabbits. As a result, you would not need a very large cage. Hamster cages should have around (24 x 12 x 12)  inches in dimension. Depending on the breed of your hamster, the recommended cage dimension may vary.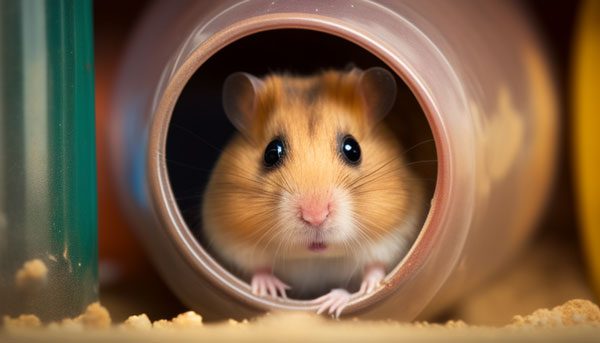 But the idea is simple, the cage should have enough room for the hamster to run and roam freely. Additionally, have lots of toys, as hamsters are very energetic mammals and would get mentally depressed if they do not expend their energy.
Rabbits
Rabbits are much larger in size hence the cage must be much larger too. The rule of thumb is the cage must be 8 times the size of your rabbit when it grows into an adult. Moreover, if you want to keep multiple rabbits, multiply the number by 8 to get accurate measurements.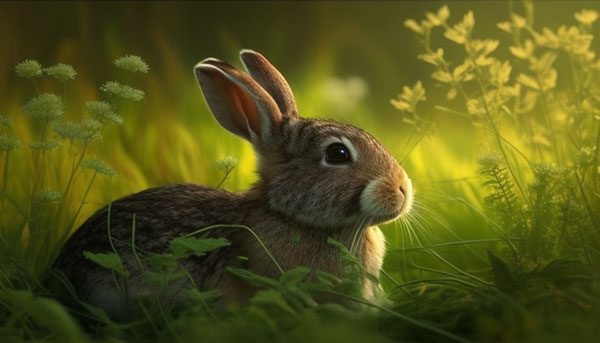 Rabbits normally are very energetic creatures, much like a hamster. If they can not spend their energy, they too get depressed. So leave a small room or ample space in the garden to let your rabbit play.
Life Expectancy Of A Rabbit Vs A Hamster
Hamsters normally live for around 2 to 3 years depending on the breed. Whereas rabbits live much longer, up to around 10 to 12 years on average.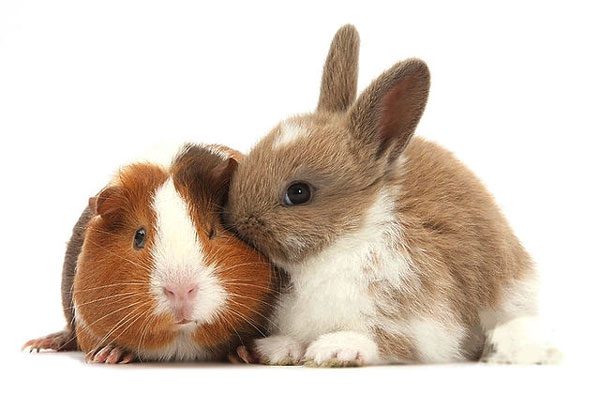 But it is important to mention that the average life expectancy can be easily exceeded if you can take care of your pet well enough.
If you're interested in learning more about small animals, you may want to check out our article on hedgehog vs hamster, as well as our article on chinchilla vs hamster. Our article on
hedgehog vs hamster
discusses the similarities and differences between these two adorable creatures in terms of their care requirements and behavior. Meanwhile, our article on
chinchilla vs hamster
compares these two popular pets in terms of their characteristics, care requirements, and suitability as pets.
FAQ
Down below, we shall answer the most frequently asked questions about this topic.
Q: Do rabbits or hamsters smell?
Well, smelling might be a deal breaker to some. But the good news, neither the rabbit nor the hamster particularly smells. Although it is important to note, their cage would start emitting an awful odor if left unattended and uncleaned.
Q: Can I pet both a rabbit and a hamster?
Yes, as long as you train both of your pets to behave in front of each other. But do not put them in the same cage, as hamsters like solitude and rabbits are extremely social. This conflict in personality could result in stress and conflict among them.
Q: Rabbits Or Hamsters,  Who Is More Cuddlier?
Both of them are cuddlier, but since hamsters are by nature active at night and love privacy, a rabbit would be cuddlier. However, be careful not to cuddle your hamster before he starts trusting you.
Conclusion
Well, we have extensively discussed the topic of who to pet, rabbit vs hamster. Overall, a hamster might be a good suit for you if you want a low-maintenance pet as you are very busy. But rabbits have much longer lifespans, so if you crave a buddy down the line, a rabbit might be better.
However, no matter how much effort we put into compacting information together, and how much time you guys spent learning about your pets, it would not amount to much if we fail to apply what we have learned and take care of our pets well.